EZfol.io Investment tracking platform
Redesigning an accesible, modern, convinient
tracking platform for retail investors
Ezfol.io enables users to aggregate various assets from multiple sources (stocks, bitcoin, cash etc.) into one view where they can see their full portfolio value and relevant information to make continuous portfolio decisions.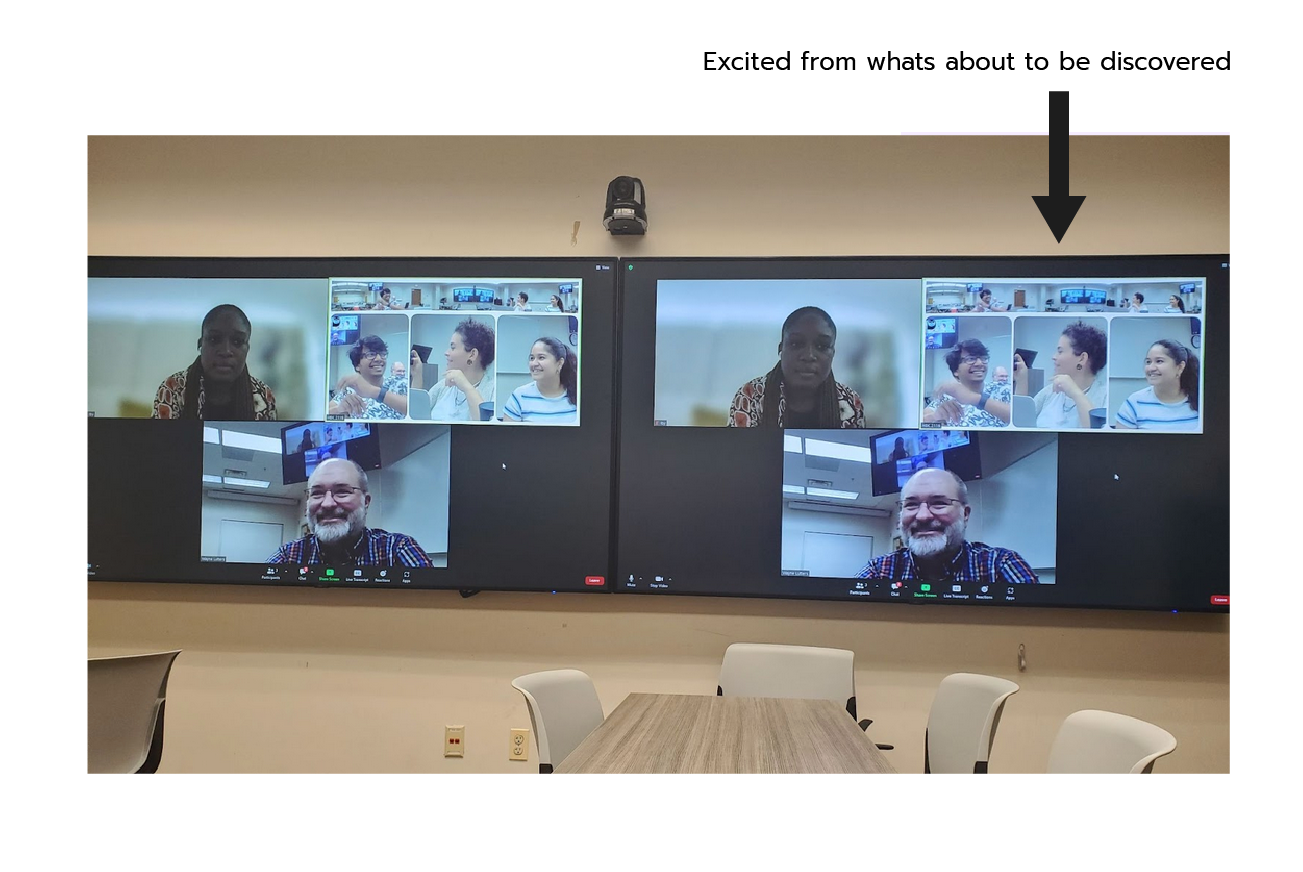 First, we met our client.
We had a kickoff meeting with the CEO and founder of Ezfol.io to understand his vision and hopes for the current product. As asking questions is one of my strengths, I got answers to questions like: What is the added value of your product? Why would long-term investors need to be tracking their investments on a weekly/monthly basis? How do you see your product five/ten years from now?
Interviews and Furthur Research
The investment world was a new world to me. The first thing that needed to be done was to learn the domain of investments and portfolio tracking. Our research focused on uncovering the motivations of users who tracked their investments.

This was done by:
Interviewed people who were experienced and interested in investments to understand terminologies and their behavior.

Exploring different investment apps.

Enrolling in EZfol.io to explore the system myself and get a user's POV.

Conduct a user walkthrough with an expert investor.
Competitive analysis
To get a deeper insight into the current state of the website and to understand the design space, we mapped out the market and created a competitive analysis, listing different features that we were considering redesigning (based on the data provided in interviews).

Customer Journey
We also created a customer journey map to understand better how customers find and interact with the service and discover opportunities for improvement.
We set out to reveal the user's pain points.

We were also determined to explore which change in the system would have the most significant ripple effect.

Once we got a bird's eye view of the process, we could pinpoint the highs and lows in the product and address them in our design.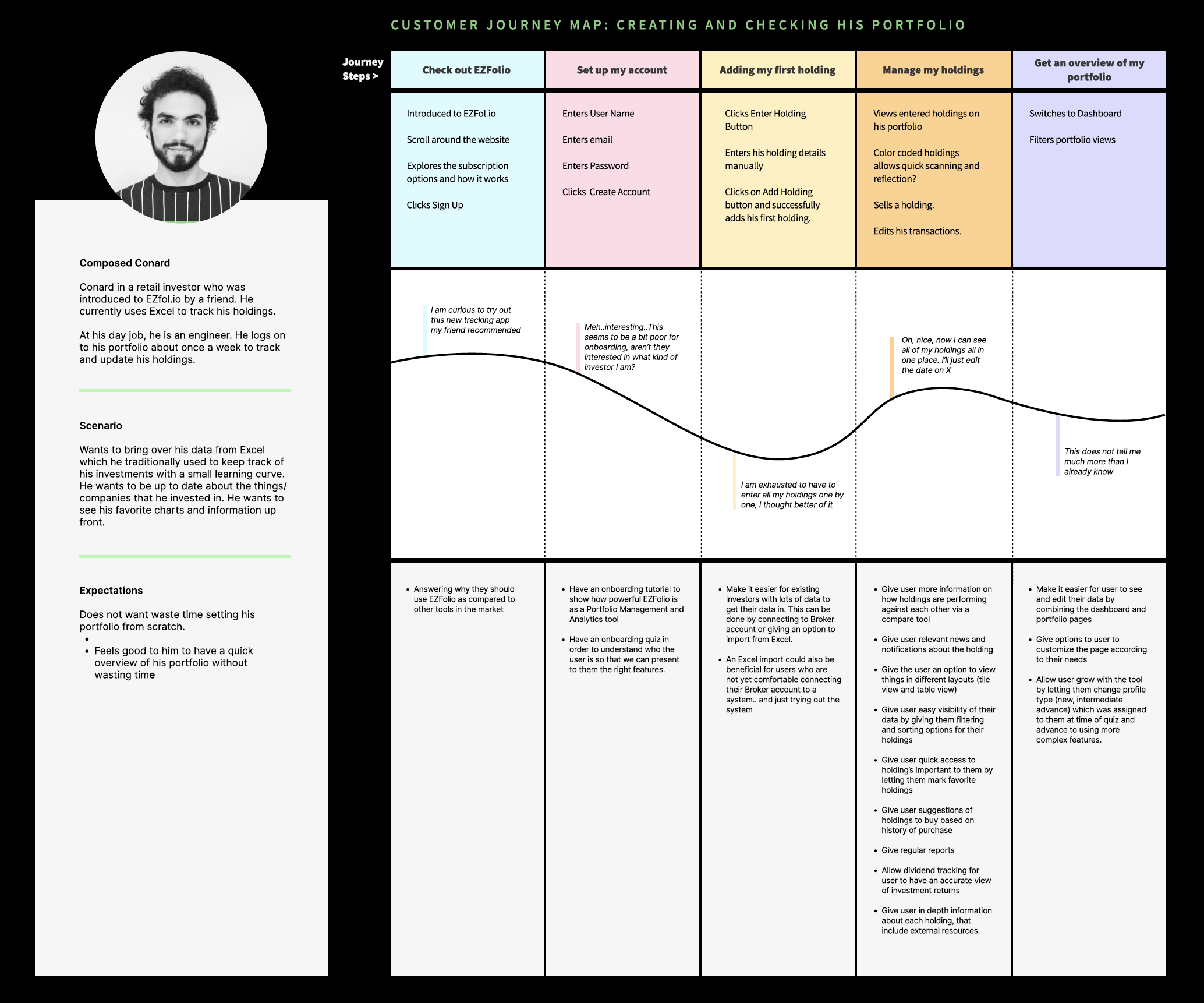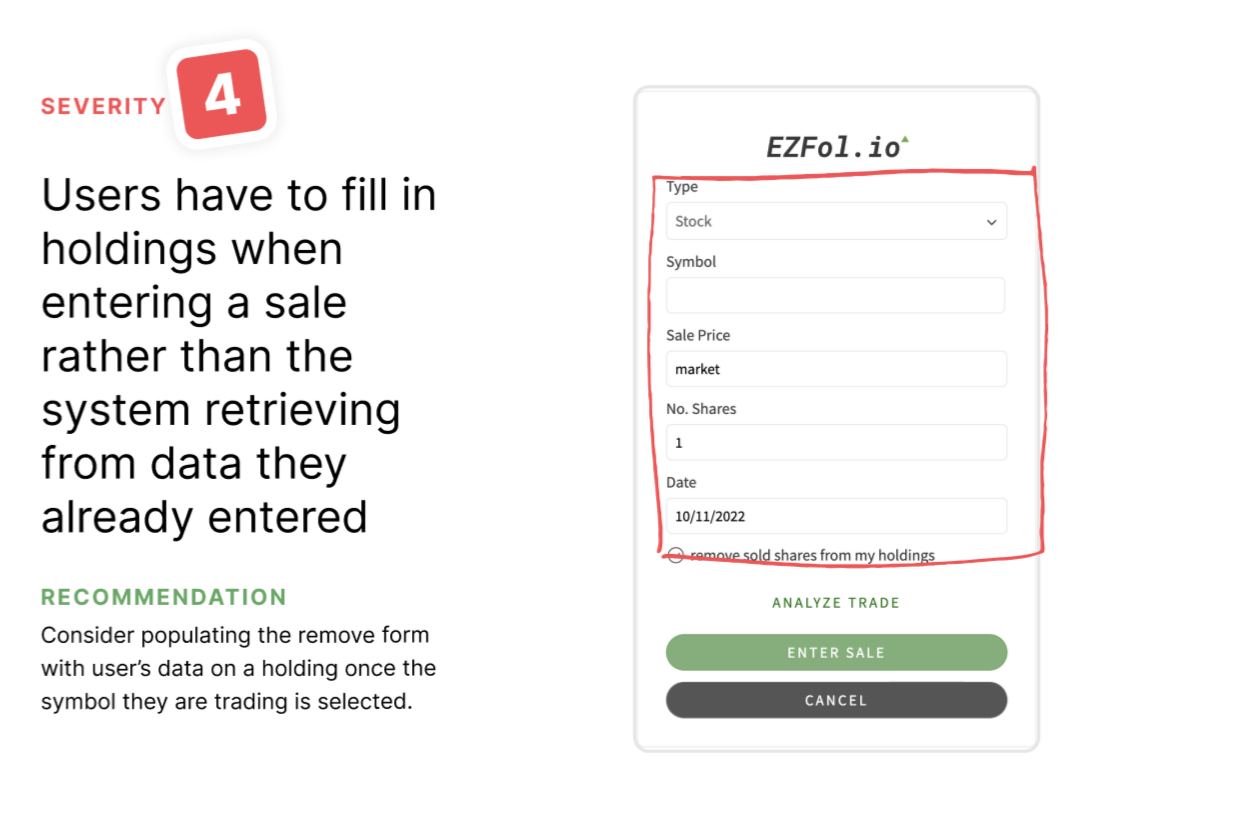 Heuristic Evaluation
Lastly, We evaluated the current system and provided the client with immediate usability issues he could start addressing, divided into severity levels.
Role: Sprint facilitator
Other team members - Client Communicator, Research Lead, Design Lead
"A great team leader has amazing leadership skills." "Anat is the driving force behind our team, An amazing facilitator!" (from feedback provided by teammates).
Mapping stage
We mapped out our product and filled in the gaps with HMW'S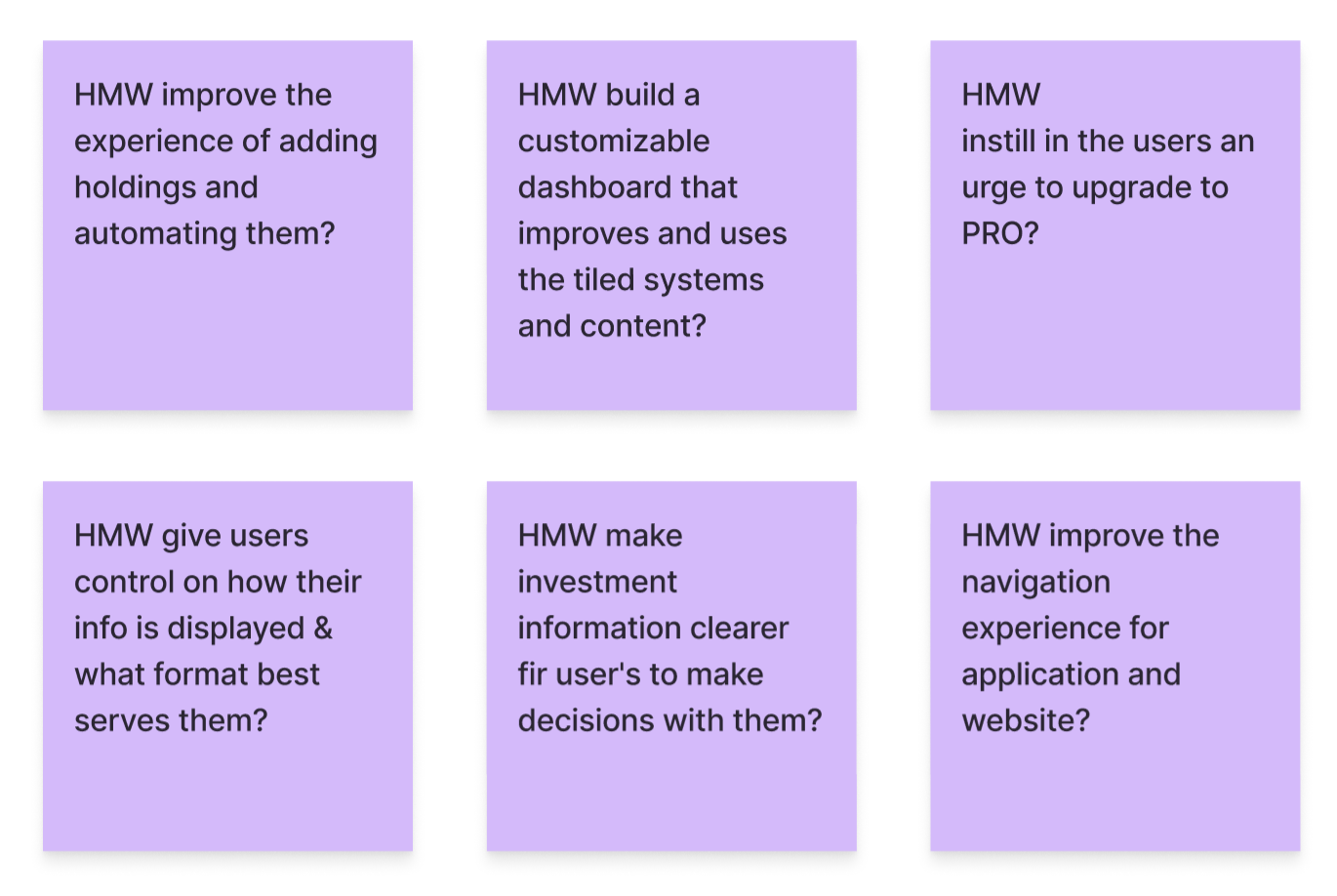 We voted on top HMW's
And came up with our problem statement that was presented to the client. Taking into account the data, client feedback, and time constraints.
problem statement
Improving and expanding the account managing experience for customers by re-imagining the onboarding, portfolio setup, and portfolio management
Between the problem statement and prototyping,
we did crazy 8's, lighting demos, and created a storyboard for our new design.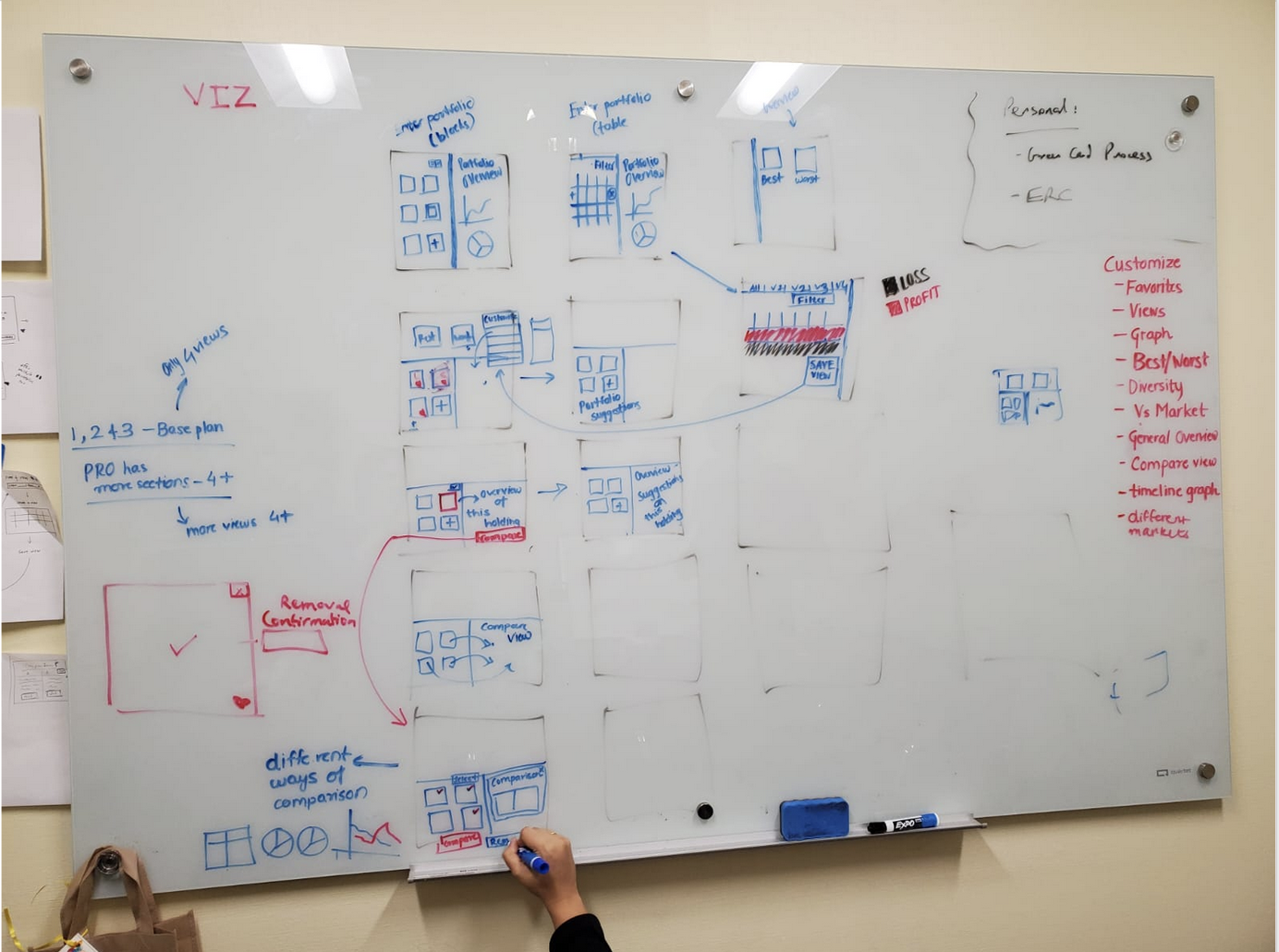 Storyboard
It was unanimous that the visualization and filtering of the dashboard and portfolio is the one we want to tackle first.
I don't think that clarity was by chance. By doing excessive work on mapping out the system (by maps, JM, and interviews), we agreed that by working on the portfolio part, we would have the biggest effect on understanding the product's added value.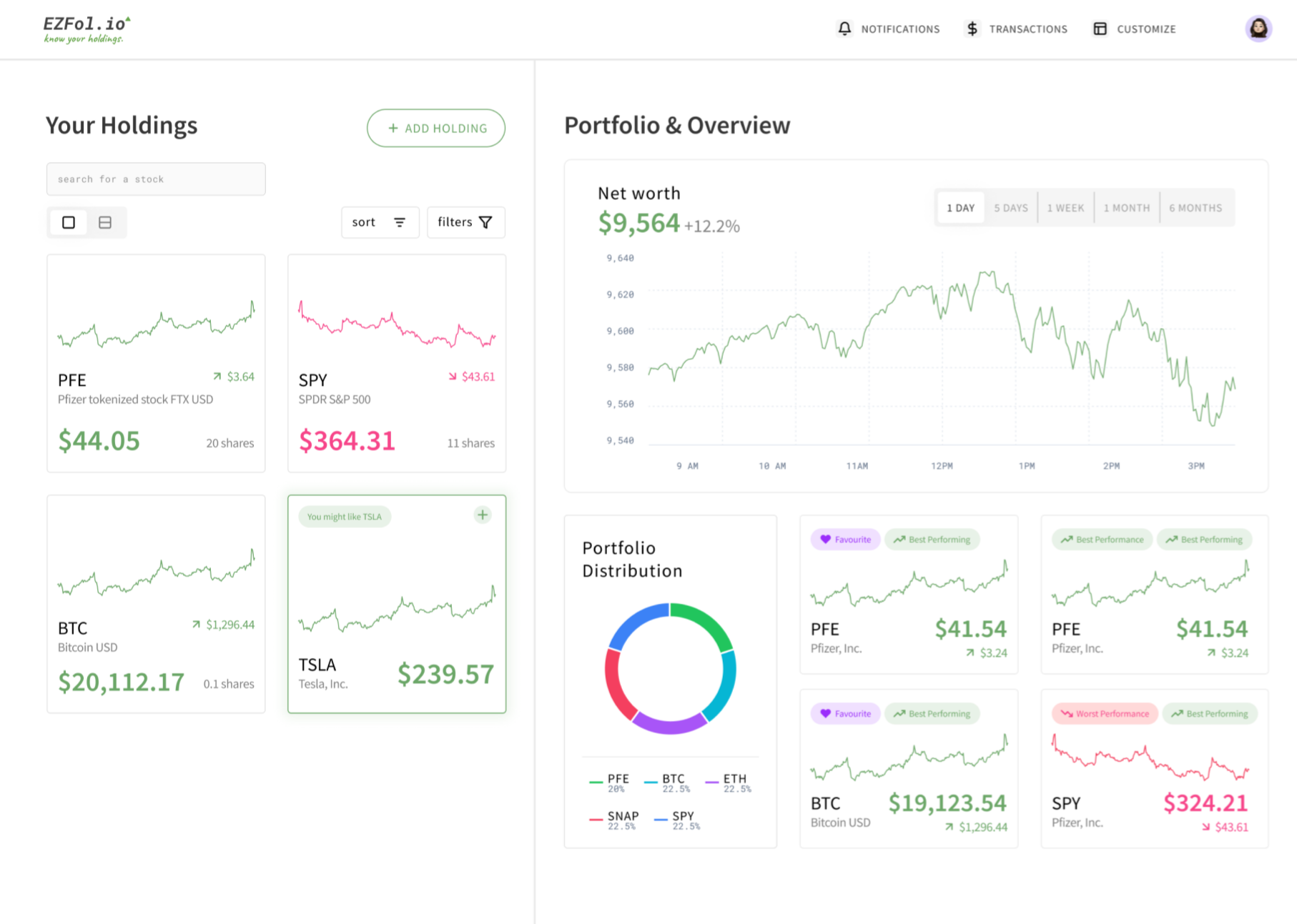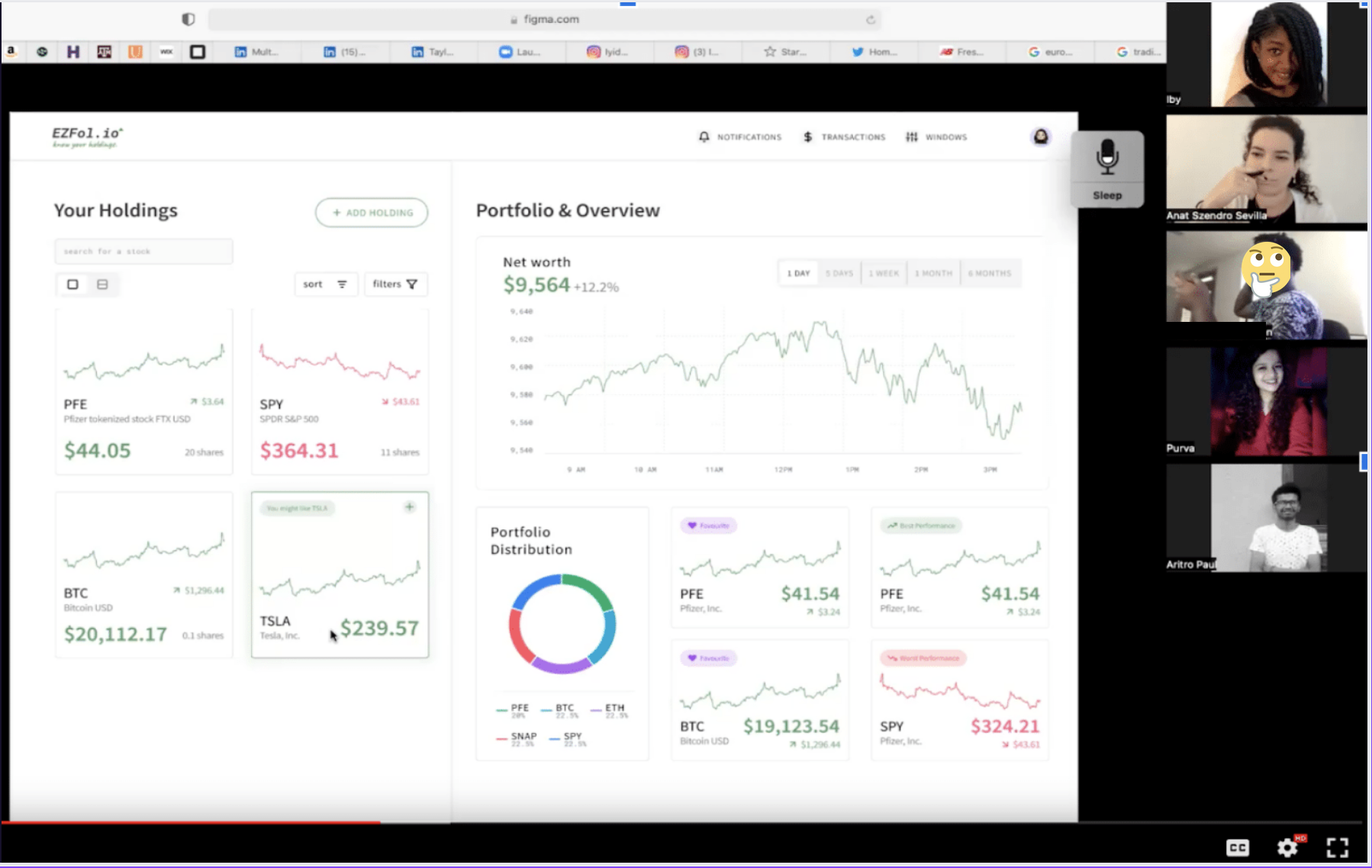 Usability Testing
We created a semi-functional, mid-fidelity prototype of the new flows using Figma and tested it out in a task-based usability test. We recruited subjects for the test who fit our criteria. We did five usability tests and got valuable feedback that was incorporated into our design:
User appricated:
The Informative dashboard

The comparison feature

The customization feature

The color coding for the holdings

The overview graph
User wished:
Having the portfolio overview on the left and their holdings on the right

Having the table layout as the default layout

Making the Suggestions stand out from the holdings in tile view

Making the default "Overview Graph" scale as 1 year or more

The details page being more visible
Role: Research Lead
Other team members - Facilitator, Client Communicator, Design Lead
"Great job at interviewing people, very calm and composed", Got solid participants"
(from feedback provided by teammates).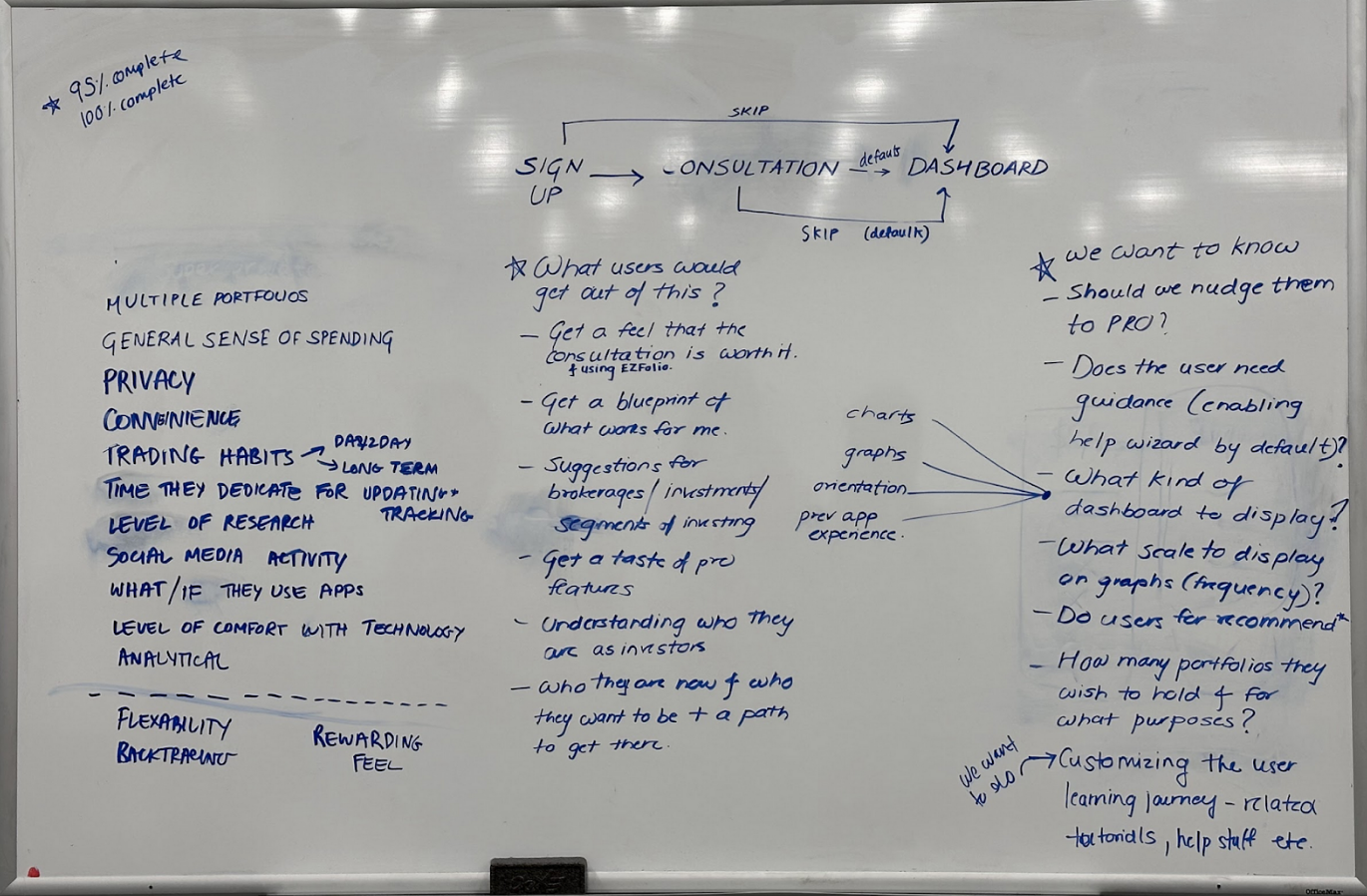 Sprint 2 was all about the onboarding experience.
Once we had an idea of the HMW'S, we could start mapping out the new flow. Our initial idea was to offer users a friendly 'consultation-like' process.
After listing what users would get out of it and what we want to know about the user, we realized that our product does not support the expectations that users would have from a full consultation.
Furthermore, the list of what could go wrong was a clear stop sign on a path we 'fell in love' with. The risk was too high, so we redirected our design process to a straightforward, concise setup and onboarding experience.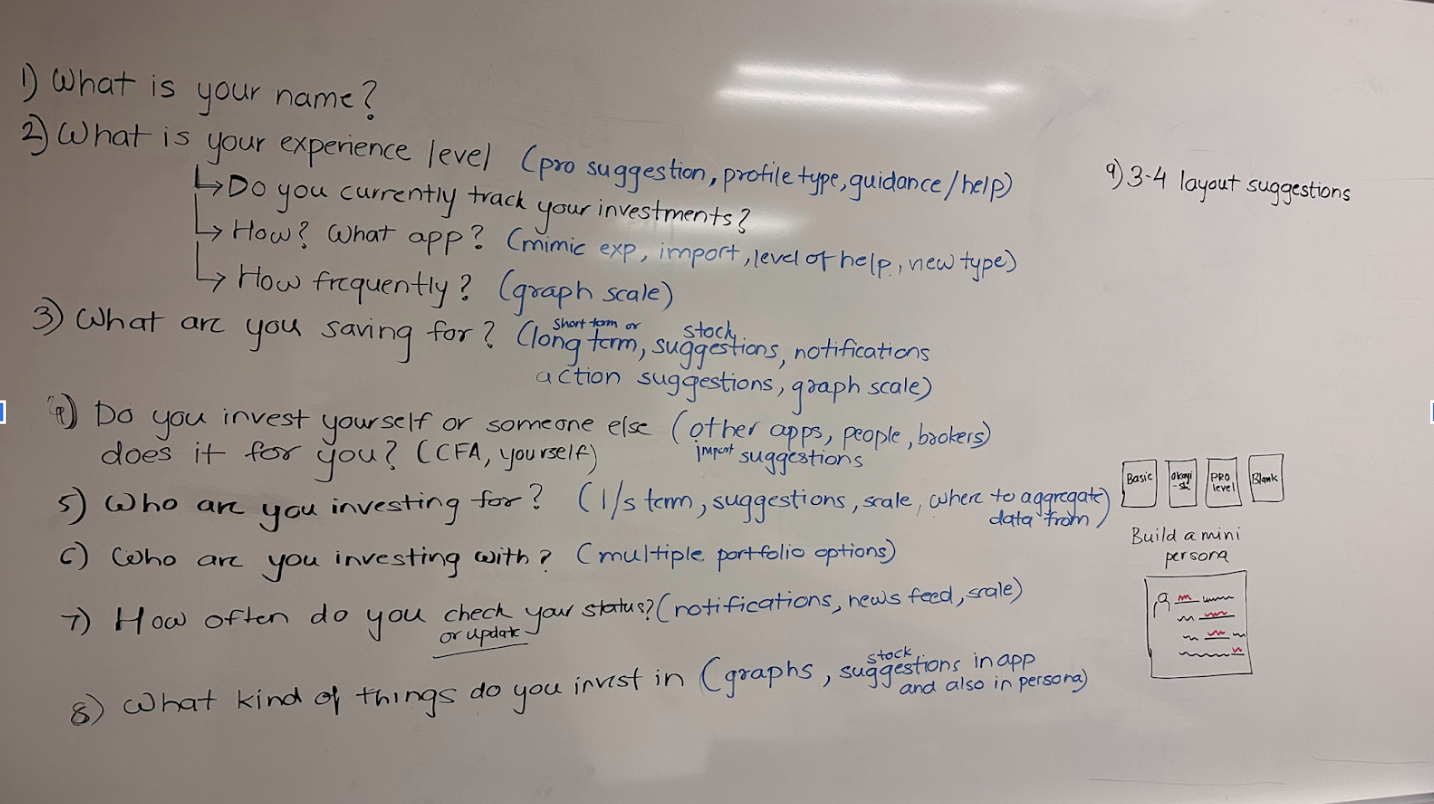 Feeling a bit lost, we decided to start writing the questions that would give us the data needed for customization (on the right in black), as well as the features that would be customized (on the right in blue) accordingly.
This was a rough sketch of what we wanted and needed to know from our users in order to create a dashboard/portfolio best experience that the system can support right now (based on our design from sprint 1).
Later we revised the questions and worded them differently, aiming for a professional but friendly tone.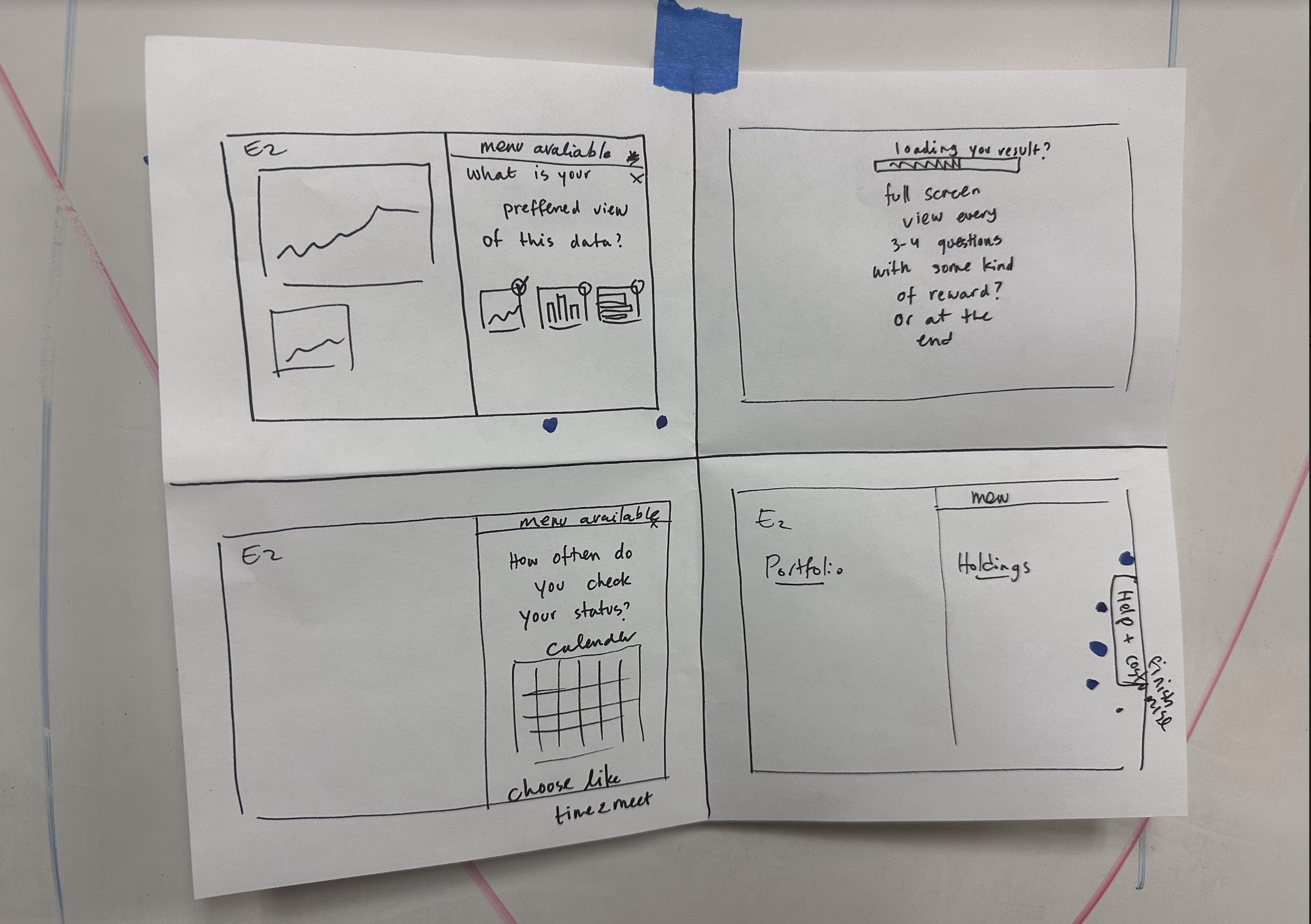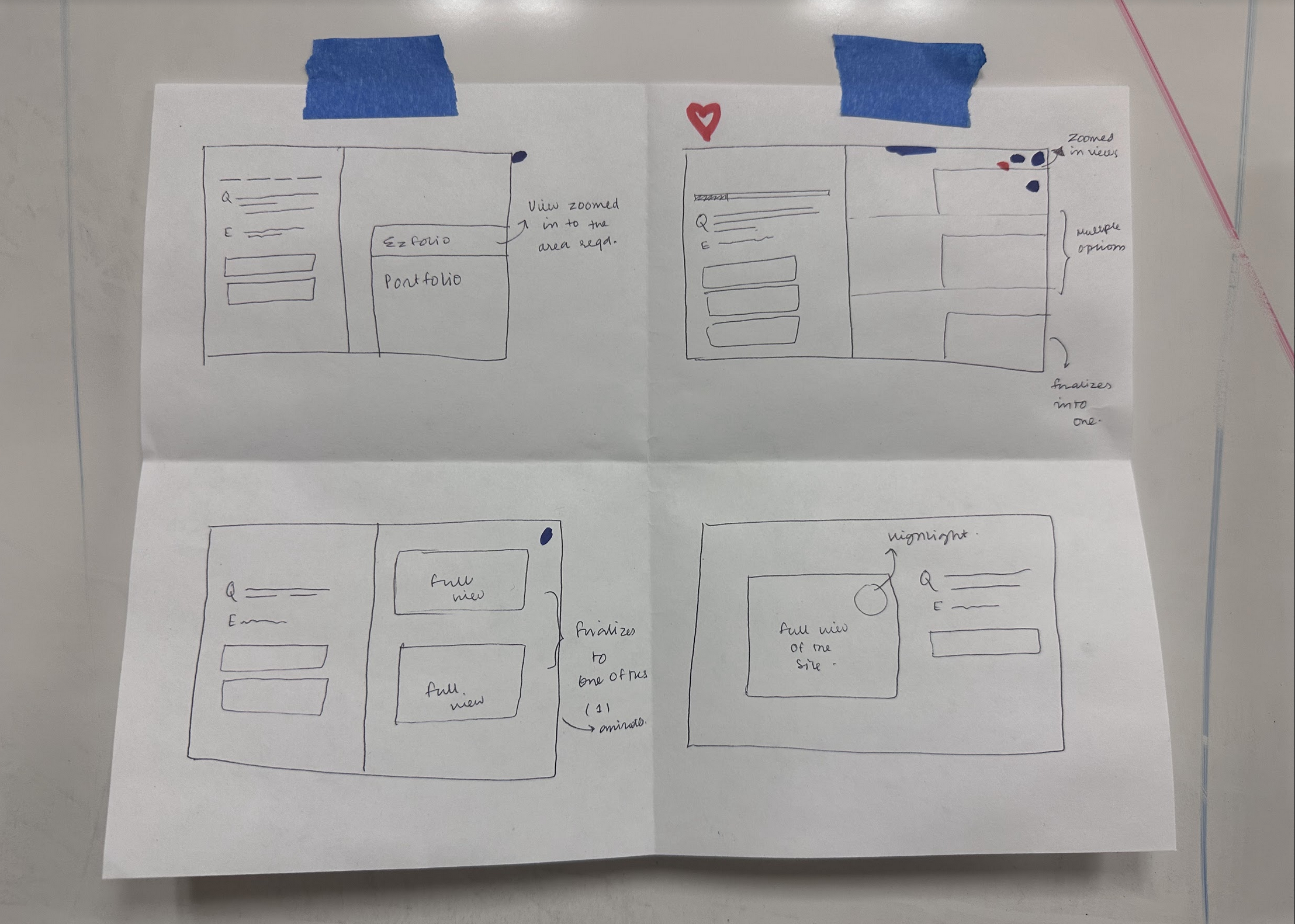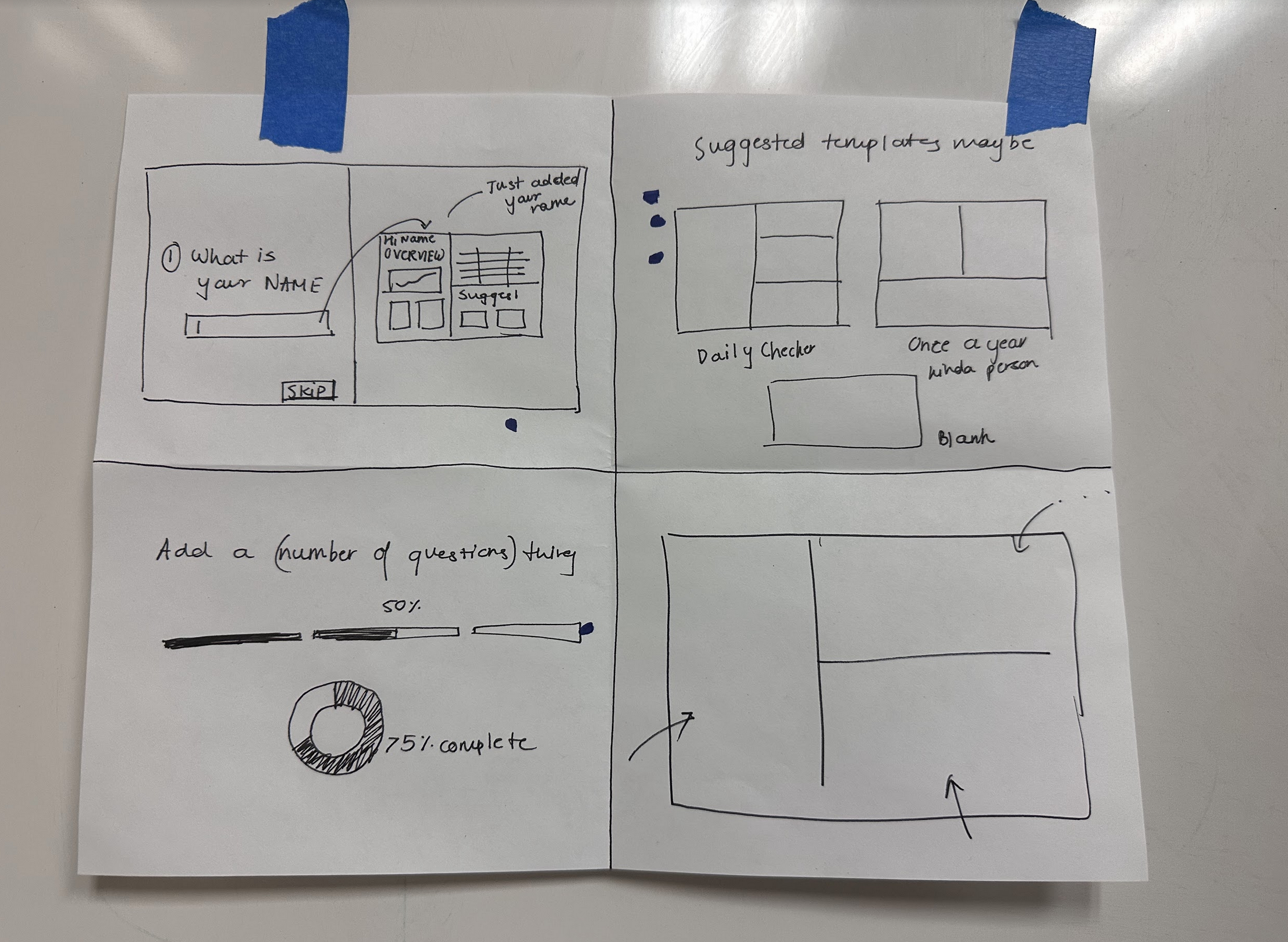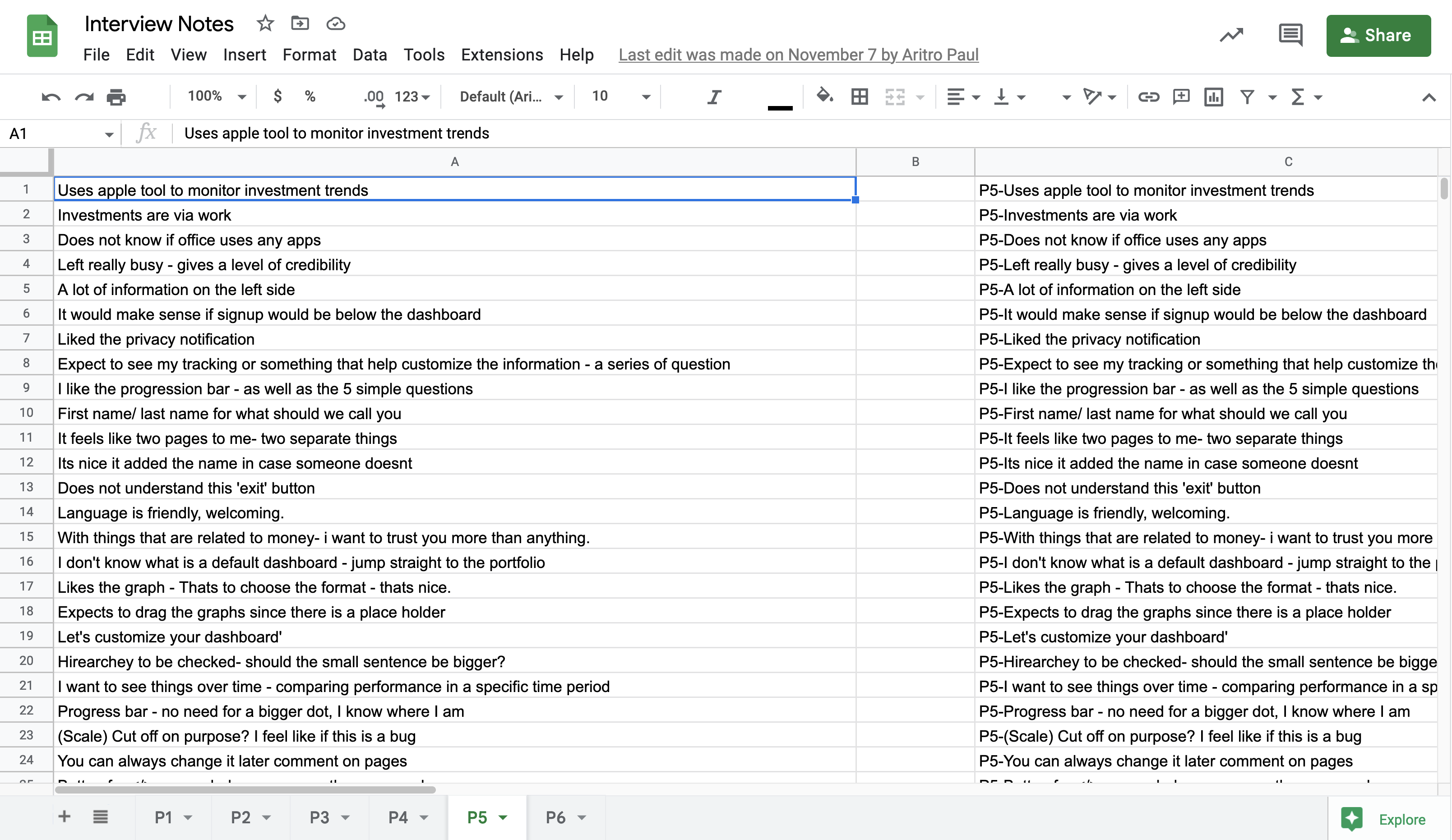 Usability Testing
I have worked on the script, as testing was my 'money-time' as a research lead. I reached out to testers in advance, particularly looking for testers with experience in the investment world. I was aiming for expressive testers that could shed light on our design. This proved to be worth the time and energy, and we were able to test 6 users that provided valuable feedback.
Users appreciated:
Formal, clear, and succinct language.

The onboard setup time is not too long and is just enough.

Found the graphs useful and informative.

Clear that the left side reacts to the right side's information.
Users wished:
Having the option to get started without going through the onboarding.

Needing more time scales for the graphs for different types of investors.

Having clarity on the feedback interaction of the screens.

Scaling and placement of zoomed-in customizable areas
Role: Design Lead
Other team members - Facilitator, Client Communicator, Research Lead
"Great job at interviewing people, very calm and composed", Got solid participants"
(from feedback provided by teammates).
Sprint 3 had two parts to it:
Understanding the process of adding holdings by manual entries, CSV file uploads, or linking brokerage accounts.

Integrating all three sprint designs into one flow from onboarding to filled dashboards.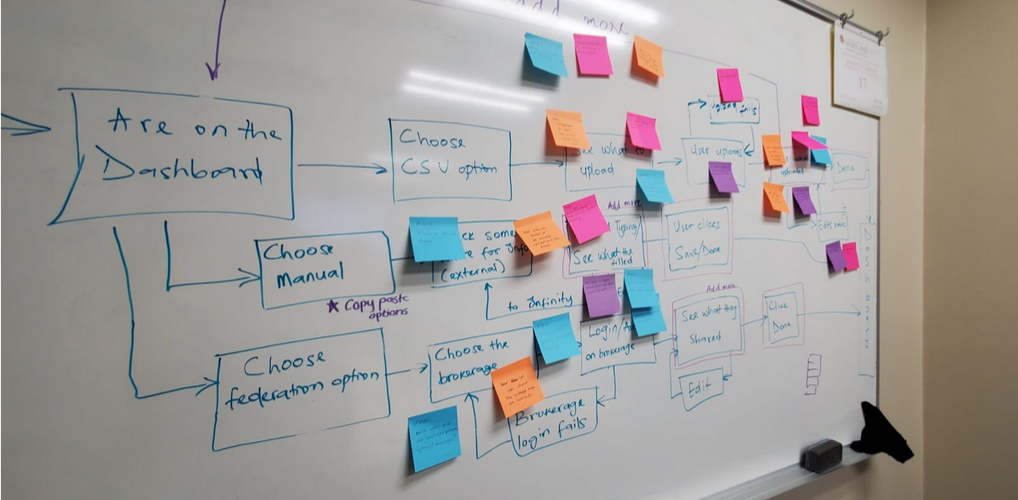 For our final arc, we wanted to integrate and test the outcome of our 3 Sprints as a full user journey. We also wanted to implement some of the findings that we got at different stages of our design process:
Final integrated prototype: (give it a try!)
Usability Testing
The final fully-functional, high-fidelity prototype of the new flows was tested on five expert users. The reason to choose experts (some of them CFA's) is that in this stage, we were interested in the bits and bites of our design, as those have been modified along the way, but we were also interested in the big picture of where this product can evolve in the future. The last interviews provided valuable feedback, with many suggestions for future features, and users showed overall satisfaction with the current design.